Jurassic World: Dominion Dominates Fandom Wikis - The Loop
Play Sound
The Ponyville Public Pool is a recreational facility constructed near the Treebrary, for the enjoyment of all residents of Ponyville. It's a fairly large complex, with something for all ages.
Facilities
The main pool is an Olympic size pool, with 3' shallow end and a 15' deep end complete with 5' diving board and 8' & 10' high dive platforms.
The pool's floor is decorated with a mosaic installed by Dirty Rocklander depicting Princess Celestia cavorting with baby otters.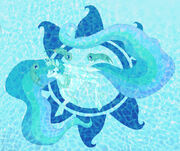 There's a 12' round "Foal's Splash Pad"[1], located diagonally off the corner of the shallow end of the pool, with orangy-red water curtain "mushroom"[2] in the center, dancing geysers, and four "water guns"[3] mounted to posts at equal points around the Splash Pad. The water guns are limited in their swing to keep the streams within the Splash Pad.
Along the same side, diagonally off the corner of the deep end is a 12' diameter, in ground hot tub[4] for the adults. (Foals may be invited to use the Hot Tub under the supervision of another adult.)
A spiral water slide[5] is erected between the foals pool and hot tub and empties out into the center of the pool which is about 5' deep.
Along the other side of the rectangular pool are the Locker/Shower House, the Pump-Filter house under the wooden water tower (for pressure) and then the Poolside Cafe & Snack Bar. There are round tables with umbrellas, shaded cabanas and lounge chairs scattered around the pool area.
Behind The Scenes
The pumps and filters work off of magic moving and purifying the pool water, providing air for the jets in the hot tub, creating waves for the wave pool, and pressurizing water for the showers, water slide and foal pool features.
They are powered by Spell Stones mounted to the top of the water tower where they can be recharged by the Sun each day.
Blue, "Glow Stones" are mounted in the walls of the pool and hot tub for night time illumination.
Hours of Operation
Life Guards on duty at 10am until 6pm for Open Swimming; Then again from 8pm until 11pm for adult swim. The Foals Wet Zone and Hot Tub remain available 24/7. (Hot Tub for use by Adult Ponies Only. Foals may be invited.)
Every Tuesday, Thursday & Saturday the Pool becomes a Wave Pool. Diving Boards and Slides are CLOSED.
Lifeguards
The Life Guard is in charge of the Pool. What he/she says is the "law" around the pool. Current Lifeguards are:
Ocean Squall

Aquatice Flout
Rules
No Running
No Horseplay
No Diving In The Shallow End
Wait For Previous Diver To Clear Before Diving
Wait For Previous Rider To Clear Before Starting Down Slide
No Food, Drinks, or

Salt Licks

In The Pool
Reference Images