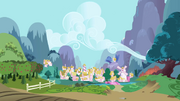 Ponyville is the primary setting for both our RP and the MLP series. It's typically depicted as a small agricultural town on the edge of the
Everfree Forest
, within sight of
Canterlot
. It appears to be a very friendly community, and most Ponyville residents seem to know each other by name. Originally founded by earth ponies, Ponyville currently contains a diverse population encompassing all pony races, among other species. It is also the mane place where RP characters appear. It attracts a lot of ponies each week.
Ponyville Holidays
Establishments Within Ponyville
See Category:Ponyville Locations for a full listing of businesses, gathering places, and locations within Ponyville.
Law
The following is derived from the show.
Theft is not tolerated
Gambling is allowed
Community content is available under
CC-BY-SA
unless otherwise noted.