This character is inactive.

This character has been inactive in our RP for a considerable amount of time, has voluntarily left the RP, or we've never had an account for them.

If this is an Original Character (OC), it shouldn't be re-created, copied, or adopted without the original player's permission. If this is a Show Character or Show-Derived Character, it may be up for adoption, contact the previous player for more information.

Banana D. Splits (also known as Quatermane) is a young earth filly who's lives in Ponyville with her adopted father Tailsin Quatermane, and adopted mother  Kiki Catchem. She's smart, sometimes too smart for her own good can get into mischief.
Background
As far back as Banana can recall, she's lived in an orphanage outside Manehattan, being a shy pony she's spent most of that time reading constantly. After having run away with her friend Pumpkin Pie to Ponyville, has been in and out of various living situations until she was adopted by Tailsin and has lived in his house ever since.
Relationships
Has a good relationship with her adopted father and mother, often getting into small fights (like any normal kid). She has a few friends who she talks with with some regularity. No coltfriend to date but a few colts seem to take interest.
Skills/Talents
Banana's considered to be a very intelligent filly whoese interests and talents lie in science.
She often does experiments in the fields of electronics and biology. Many times this has unforeseen consequences and Banana gets into some kind of trouble. But does manage to make some money selling her successful inventions.
She often experiments around with more theoretical inventions, such as wormholes and free energy. Has successfully made a teleportation pod, portal gun, artificial unicorn horn, but has yet to invent free energy.
Plantain Splits
((Editors note: We've allowed Plantain to write her own biography due to poor judgment calls and budget cuts. This is what she wrote after she stopped banging on the keyboard.))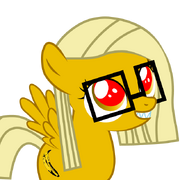 I PLANTAIN! BANANA BRING ME FROM HOME! PLANTAIN NO LIKE HOME SO NANA WENT VROOOOOOOPPP AND PLANTAIN HAVE NEW HOME!
This home different. I LIKE IT! Old home ponies keep Plantain in cage! NO LIKE CAGES!
LEMS ADOPT ME! She give me wasabi like Plantain like! SHE NICE LADY! She take silly-salt and go ZZZZZZZZZZZZZZZ!!! And Plantain go on adventures!
Banana gave Plantain wings! I LIKE WINGS! But Plantain no fly yet! D:
QEKFNMoSJInOPIFNMapoNVPOKMpKMDSpmf]psokgaijgqw=098hjRe nvcb ad aevbsdrhe5bFMKJ6IY89RN8BNJMKIJHEIRGJEKTH0RTKHR ((Editors note: At this point Plantain got bored and smashed the keyboard and started chewing on it))
Trivia
Banana's middle name is Daiquiri and she has no idea why.
Banana's scientific idol is Nicolta Tesla.
Banana has a fear of Dolphins.
Plantain cutie mark is actually and Andy Warhol painting.
Community content is available under
CC-BY-SA
unless otherwise noted.